Triple P: Positive Parenting Programme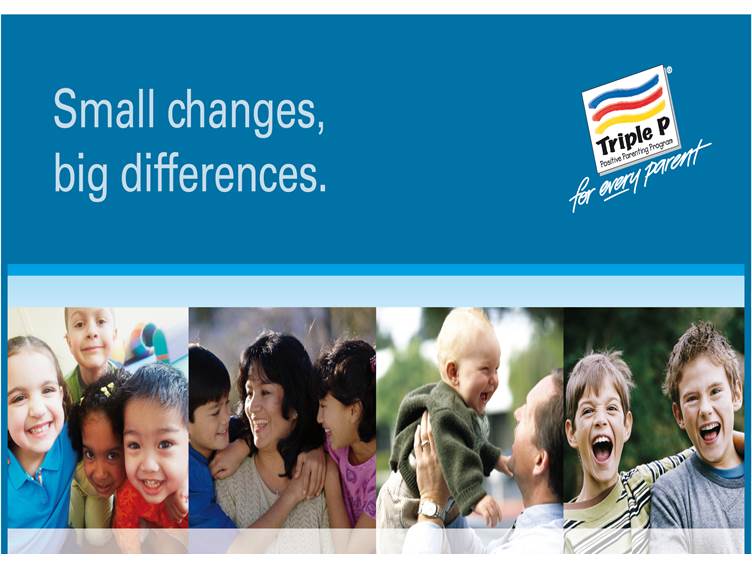 , Midland Area Parenting Partnership
Laois, Offaly, Longford & Westmeath
Tel: 090 6447111: www.triplep-parenting.net : Or Find us @ Triple P MAPP Page
Being a parent is not always easy! When it comes to parenting, how do you know what's best and what works for your family?
What is Triple P?
Triple P is a positive parenting programme that promotes good communication and strong relationships between parents and their children and teenagers, aged 2 to 15 years. This positive approach to parenting gives practical help with everyday parenting problems.
You might be concerned about
• bedtimes,• whining & whinging,• toddler tantrums,• mayhem at mealtimes,• fighting or teasing,
• dealing with frustration,• trouble with homework,• signs of anxiety• common teenage issues.
Or, there might be no problems at all, you might be thinking of how best to support your child, to set up a homework routine, to encourage healthy eating or set a Bedtime Routine, to build their confidence and develop problem solving skills. Whatever your parenting need, Triple P has the information, tip sheets, course and practitioner to help you.
For Every Parent: The three P's in Triple P stand for "Positive Parenting Programme". We offer support for every parent. The courses are free and all parents are welcome.
How do I do Triple P?: Parents can call the Triple P office at 090 64 47111 to book into a course that suits you. Our practitioners will help you choose the right course that fits your family. We offer two hour workshops or a longer group programme in the morning or evening in your local area.
What happens at a Triple P Course?: You will receive a reminder text with the date and venue from the practitioner running the course. The course is delivered in a relaxed friendly environment. Your practitioner will introduce the course and give you a booklet. Throughout the course you will have the chance to listen and share your parental experiences with other parents, pick up tips and make a plan of how to make your family life more enjoyable. If parents have any concerns around attending or participating in the course please talk to your local practitioner
What the Parents Said……
"Because I am more calm myself, everybody in the house is calmer"
"Thank you for giving me other ways to deal with problem behaviour instead of shouting at the kids and getting nowhere"
"It was completely life-changing. I went from being a traumatic single mother with five kids to a positive mother with happy kids"
"We didn't have any major problems. I just wanted some tips and strategies and Triple P was great. So easy to use."
"I was very grateful for a chance to be able to discuss my worries about my son, just little behaviours a mother needs help with"
"You get a lot of ideas & possible ways of dealing with things. It doesn't mean all will work for all circumstances, but you can try them out and pick what works for you"
"Fantastic programme & reassuring for parents dealing with the transition into teenager and all it entails. Will highly recommend to my friends"
Click on the poster below to see full details of upcoming courses during the month of June in Laois, Offaly and Westmeath.