Date announced by the Minister for Children and Youth Affairs for the commencement of all remaining provisions of the Children First Act 2015
Statement by Dr. Katherine Zappone TD, Minister for Children and Youth Affairs
Monday 2nd October 2017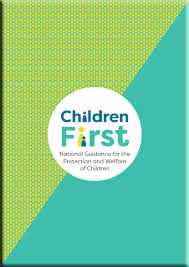 Minister Katherine Zappone T.D., Minister for Children and Youth Affairs, today announced that following almost two years of preparations all remaining provisions of the Children First Act 2015 will be commenced on 11th December 2017.
These include the provisions in relation to mandatory reporting of child abuse and in relation to placing a legal obligation on organisations providing services to children to prepare and publish a Child Safeguarding Statement.
Minister Zappone was speaking at the launch of Children First: National Guidance for the Protection and Welfare of Children [2017] which revises and replaces the 2011 edition of the Children First Guidance.
The Minister stated: "By announcing a date of full commencement of all remaining provisions of the Children First Act 2015 on 11th December, I am fulfilling a longstanding Government commitment in relation to mandatory reporting of child abuse." She added: "While I do not underestimate the scale of the challenge for individuals and organisations to comply with their responsibilities under the Children First Act, I believe our children deserve no less. The comprehensive range of resources being launched today, are intended to help them in their preparations to discharge these responsibilities".
The Minister acknowledged and commended all those who work so hard to make sure that every child they interact with is cared for, supported and protected. She said "Practitioners in the professional and voluntary sectors, medical professionals, Gardai, youth workers, teachers, and coaches all over Ireland have already adopted and applied best practice in child protection. These people already implement Children First in full and understand their duty to keep children safe."
"We must continually do our utmost to protect children and young people from harm and assist them in achieving their full potential and I want to encourage and support people who work with children to continue to do so. I hope that families, communities and those who work with children will find the revised Children First Guidance a practical and supportive reference resource, together with the resource documents now being made available by Tusla".
To read the article in full please click HERE