Minister Zappone welcomes publication of Comhairle na nÓg Annual Report 2019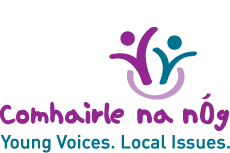 From Department of Children and Youth Affairs
2019 marks another successful year for Comhairle na nÓg, Ireland's local youth councils, with almost 4,000 young people participating across all 31 Local Authorities nationwide, according to the organisations' 2019 Annual Report which was published today.
Comhairle na nÓg ensures that young people can participate in local and national structures. They are a vital infrastructure to ensure the full participation of young people in decisions that directly impact their lives.
Throughout the year Comhairle na nÓg has continued to help young people achieve significant outcomes on many topics of importance including mental health, drugs and alcohol, safe communities and safe socialisation, education, health and wellbeing, discrimination and equality and relationships and sexuality. Mental health was the key topic in 2019.
Welcoming the publication of the Report, the Minister for Children and Youth Affairs, Dr Katherine Zappone said:
"The work of young people through Comhairle na nÓg continues to inspire me. I believe that children and young people have a right to a voice and a right to participate in decisions that affect their lives. Comhairle na nÓg provides a meaningful space for young people and enables them to voice their opinions on the challenges we have in our communities. Through the engagement with decision makers, Comhairle na nÓg also works to ensure young people are part of how we respond to these issues, thereby making their participation both meaningful and valuable in effecting positive change."
An exceptional event from last year was Dáil na nÓg 2019, where 168 delegates from Comhairle na nÓg took seats in the Dáil chamber to celebrate 100 years of democracy in Ireland and the first Dáil in 1919. It was the first time young people had the opportunity to cast their votes in the Dáil Chamber and they voted to set out a climate change agenda for the current National Executive.
2019 was also the year where two key actions were brought to fruition under the theme of equality in a school setting. The Comhairle na nÓg National Executive, which is made up of one member from each of the Comhairle na Óg local groups, achieved two important projects related to equality in education:
The #TeachMeAsMe social media campaign, to highlight how schools can ensure all young people are treated equally; and
Our Voices Our Schools, an online toolkit for schools to enable young people's decision-making in everyday school life.
Acknowledging the achievements of 2019, Minister Zappone said:
"Young voices are key in deciding the future of our communities and our country. Every time I meet the members of Comhairle I feel confident about our future. They are ready, willing and able to confront the many challenges in an uncertain world. These young people work hard to create a better, brighter future. I hope they are extremely proud of what they have achieved in 2019, I know I am."
Ireland is a world leader in terms of the direct commitment by national and local Government to establishing and sustaining local youth councils. As a consultative forum, Comhairle na nÓg plays a vital role in representing the voice of young people in Ireland and in developing resources and disseminating information to young people on a wide range of topics. The Department of Children and Youth Affairs is committed to ensuring the ongoing engagement of young people in decision making through the permanent structures of Comhairle na nÓg.