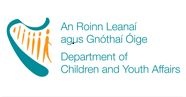 Following on from the launch of the www.affordablechildcare.ie further sections have now been added where parents can view additional information. There are three new areas as follows:
I have a child under 3 years
I currrently get DCYA supports
Can I get help with my childcare costs
Within each section parents will be guided to their entitlements and how they can apply for support. Information evenings for parents will be held over the coming weeks in central areas. For more information please contact Offaly County Childcare on 057 9135878.
For further details please see affordablechildcare.ie