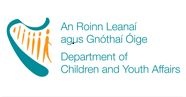 The Minister for Children and Youth Affairs hosted an Open Policy Debate on the National Early Years Strategy, at Iveagh House in Dublin on Wednesday 7th December. The event, which brought together more than 80 experts, practitioners and stakeholders, was a key step in the development of Ireland's first ever national strategy for young children.
The event provided an opportunity to take stock of the ongoing work on the Strategy, and to invite reflection, comments and feedback from representatives of the wide range of sectors that are concerned with early years (0-6 years).
In preparing the Strategy, the Department of Children and Youth Affairs intends to take whole-of-Government approach. Today's Open Policy Debate therefore brought together representatives from the fields of health, education, early childhood care and education, child protection, housing, community, social protection and social inclusion. Participants included parents' organisations, statutory and non-statutory organisations and advocacy groups, trade union and business representatives, and Government departments.
The Strategy will take account of the report of the Expert Advisory Group on the Early Years Strategy, Right from the Start, as well as more recent policy developments and Programme for Government commitments. It will also be informed by a consultation which the Department of Children and Youth Affairs has undertaken with children aged 3-5, and by the Open Policy Debate.
Speaking at the Open Policy Debate, Dr Katherine Zappone, the Minister for Children and Youth Affairs, said, "Early childhood is a time of life which matters deeply in its own right, but it is also a crucial phase of human development when the foundations for the future are laid. What happens in a person's early years has lifelong effects on their health, wellbeing, social, educational and economic outlook."
Minister Zappone continued, "In supporting early childhood, we have the potential to change the life chances of an individual for the better and, beyond that, to change all of society – to make it more inclusive, resilient, healthy and hopeful."
The Open Policy Debate was also addressed by the Taoiseach, who affirmed that "Protecting and promoting the rights of our youngest citizens and providing high-quality and integrated services for children, young people and their parents is a responsibility that I take very seriously." Reflecting on the theme of Ireland's centenary year ('remember, reflect and reimagine'), he also highlighted the opportunity presented by the Early Years Strategy to reimagine the future and work towards a society which supports current and future generations of young Irish citizens to blossom and flourish.