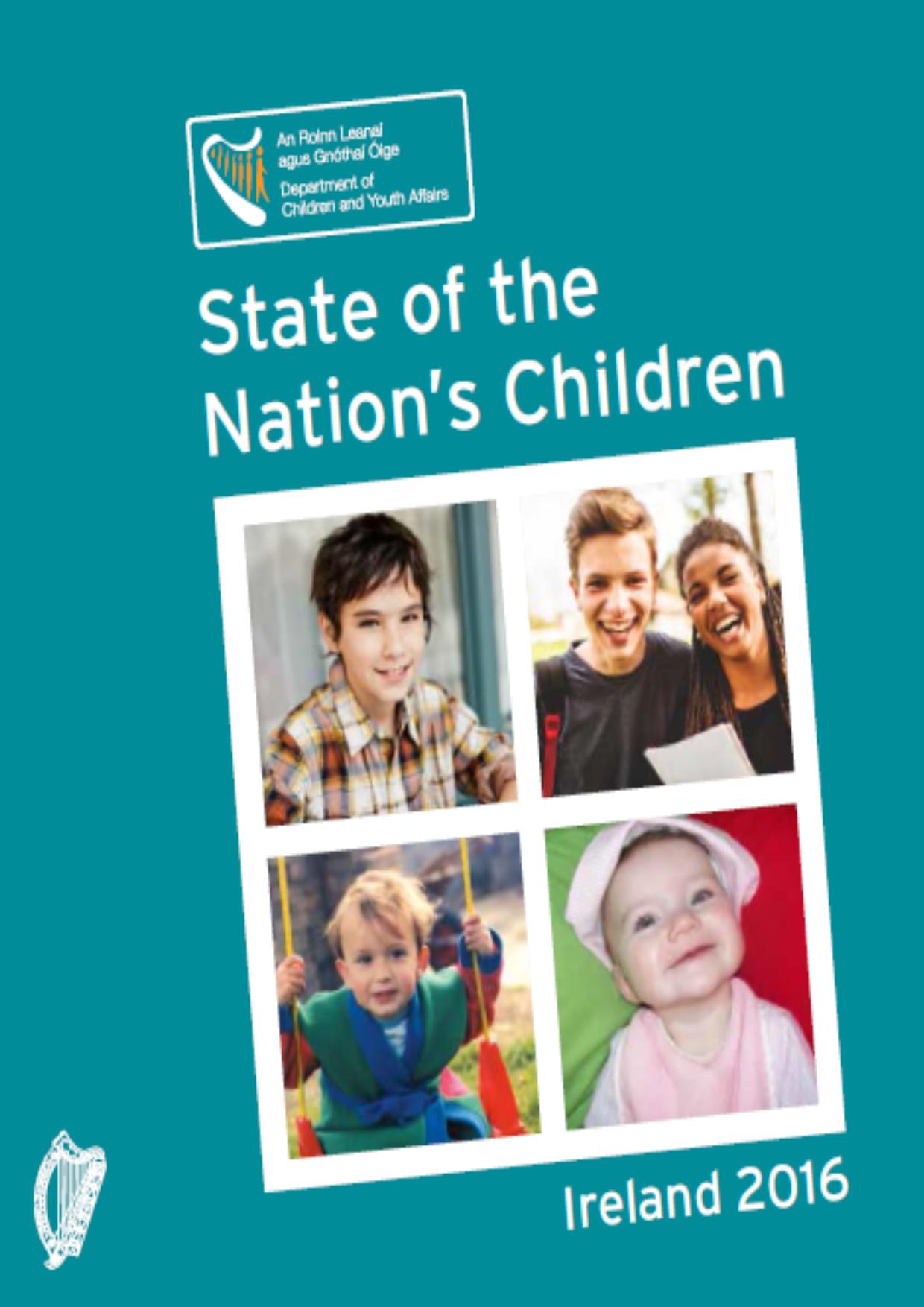 The Minister for Children and Youth Affairs, Dr Katherine Zappone TD, has published the State of the Nation's Children Report: Ireland 2016. This is the sixth such report since 2006, and was compiled by the Department of Children and Youth Affairs with data contributions from a broad range of government departments, agencies and research organisations.
Minister Zappone has welcomed the report and the contribution it makes to understanding the lives of children in Ireland.
According to the Minister, 'This Report highlights some very positive findings and trends and shows that overall Ireland a great place in which to be a child. Nine out of ten children are happy with their lives, which I am most pleased to see. I am also encouraged by some of the health behaviour trends seen in the report such as Irish children's high levels of physical activity when compared internationally, and a significant decline in soft drinks consumption, which more than halved between 2006 and 2014. This is good news for Ireland, particularly in the context of the government strategy, 'A Healthy Weight for Ireland''.
Some other positive findings that the Minister highlighted from the report include:
- The proportion of children who have never smoked cigarettes continues to rise
- The percentage of children taking cannabis has declined
- The number of graduates working in early years education and care continues to rise, helping improve quality of provision.
- Irish teenagers continue to perform well in OECD-PISA international comparisons on literacy, maths and science
The Minister, however, expressed concern at other findings, such as those relating to self-harm, particularly among girls. The report highlights that over two and a half times as many girls as boys present at hospital emergency departments following self-harm.
Another area of concern is child poverty. In this regard, the Minister stated, "The report shows that eleven percent of our children are living in consistent poverty. I believe this to be unacceptable. The reduction of child poverty is a priority of mine and is central to Better Outcomes, Brighter Futures, the whole-of-government policy on children and young people.
I am pleased, however, that the report shows the numbers availing of the Early Childhood Care and Education (ECCE) Programme continuing to grow. These numbers are due to almost double through 2017, following the expansion of the ECCE programme to include a second free preschool year. Providing greater access to high quality affordable childcare is a key aspect of the Programme for Government, and has been a central task for my Department. By improving access to childcare, we will help lift families out of poverty by enabling parents to avail of work, education and training opportunities while also providing greater numbers of children with a high quality preschool education".
To read the report in full please click here