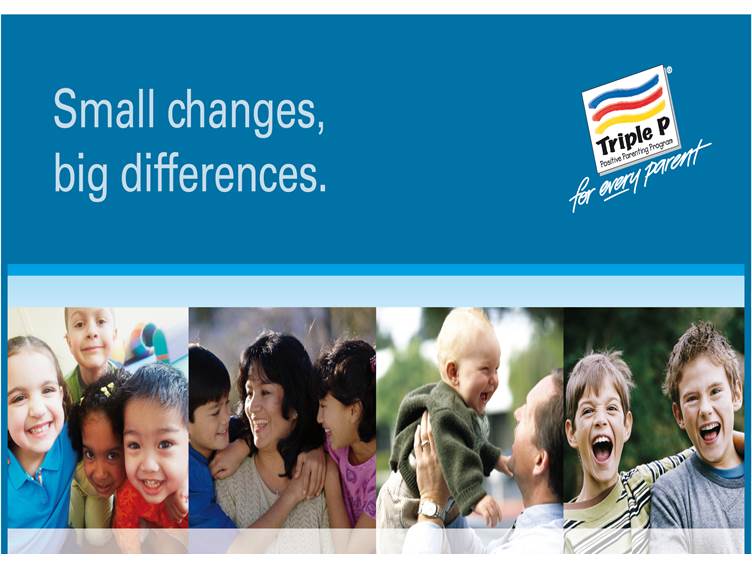 January / February 2017 schedule: FREE Triple P Positive Parenting Group Programme in the Midlands
Midland Area Parenting Partnership are delivering the FREE 7 week Triple P Positive Parenting Group Programme to parents of children aged 10 years and younger and for parents of teenagers 11 years to 15 years. The details of all programmes and exact locations are on the Triple P Website. Please circulate this information to parents you work with, friends and to colleagues who work with parents of children/teenager year in the Midlands. To book a place or for further information, please contact the Athlone Office at 090 64 47111 .
Triple P is a multi-level suite of programmes and we deliver the following in Laois Offaly Longford and Westmeath:
• Seminars (Level 2) mostly in schools to support transition of children from preschool to primary schools and for children going from 6th class to 1st year. Over 50% of national and secondary schools in the midlands are delivering these seminars in schools as part of the parents enrolment/induction process.
• Workshops (Level 3) are 2 hour stand alone topic based workshops which are delivered in community locations across the midlands for the younger aged children
• Group (Level 4) is our 7 week general positive parenting programme which runs for 2 hours each week for 4 weeks with 2 weeks of phone-call support and a final 2 hour session for both parents of children 10 years and younger and parents of teenagers aged 11 – 15 years.
This is our public calendar for all parents, we also deliver closed workshops and groups to parents in specific areas or that have specific or high level of need. We do not advertise the closed workshops or groups as they are only available to these parents. If you would like to know more about the closed delivery or have a group of parents you are working with who might be interested in this you can email us at This email address is being protected from spambots. You need JavaScript enabled to view it. or phone 090 6447111.
| | | |
| --- | --- | --- |
| OFFALY | Date and Time | Venue |
| Group Teen | Tue, 24 Jan 2017 19:30 – 21:30 | Sub Project, Main St, Birr |
| Group 10 yrs and younger | Wed, 15 Feb 2017 10:00 – 12:00 | Sub Project, Main St, Birr |
| Group 10 yrs and younger | Tue, 21 Feb 2017 19:30 – 21:30 | Tullamore Community & Family Resource Centre, Arden Rd. |
| Group Teen | Thurs, 23 Feb 2017 10:00 – 12:00 | Tullamore Community & Family Resource Centre, Arden Rd. |
| Group Teen | Mon, 6 Mar 2017 19:30 – 21:30 | Clara Family Resource Centre, River St, Clara. |