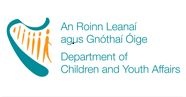 The Department of Children and Youth Affairs are asking members of the public to complete a survey which will inform the Better Outcomes, Brighter Futures Mid-Term Review. This survey seeks to review and analyse awareness and visibility, engagement, the implementation process and infrastructure, the strengths and weaknesses of the Better Outcomes, Brighter Futures Policy Framework and it will inform the course of action for phase 2 of implementation.
The survey will take approximately 10/15 minutes to complete.
The survey must be completed by 3rd November 2017.
Please follow the link below to complete the survey:
Your input and opinion would be greatly appreciated in completing this survey.